Whether you end up looking weird in your prom photos, or your friends are kind enough to take photos of you embarrassing yourself, this magical night is full of promise when it comes to amusing pictures.
Staring
Not cool, man. We get it, your date to the prom is wearing a dress that leaves very little room for the imagination, and your teenage hormones are going bananas at your age, but that's no excuse to gawk at your girlfriend's cleavage like it's going out of business.
It's not just inappropriate, it's also pretty darn rude. The camera catches everything, however, and we bet this girl didn't think it was very funny when she saw this picture of her date staring at her a little later. We bet her parents didn't appreciate it too much, either. But, looking at the bright side, at least he wasn't staring at another girl, right?
Staring again
This is a pretty hilarious picture, as the guy cannot hide his awe and amazement while he inappropriately stares inside his date's cleavage.
We mean, if you're going to look at a woman's lady parts, at least don't make it so obvious, right? We hope this girl realizes what a guy she's got between her hands, cause he's a real winner. At least these two have a lovely photo to commemorate that magical evening by.
Magic carpet ride
We don't understand what's going on this picture at all. Thinking outside the box is great, and you obviously want your prom photos to be original and different than other people's, but this pose seems a bit weird and very… of the boudoir, if you ask us.
It's hard to say why there's a furry carpet in the picture, and why this person is sitting on top of his date, grabbing her hair between his hands. But at least the background is magical, right?
Getting slapped
This hilarious couple took it to the next level of originality. Instead of going for the regular, standing side by side pictures, they opted for a much more special pose.
Either that, or this poor guy did something very bad, like mess up and get his date the wrong corsage, or told her that dress makes her look fat. In which case, we would advise this guy to run and hide, because his date looks pretty tough.
Photo ruined
On the night of your prom you get all dressed up, looking forward to the beautiful evening, and you obviously want to commemorate the magical time you had with magical photos.
So it can be really annoying when you pose for a prom picture, and someone in the back decides to photobomb you and ruin the whole thing. But when you think about it, it can also be pretty hilarious, especially when you look back at these pictures when you're older.
Riding a Llama to prom
The prom is one special night, and it's important for many to make a fantastic entrance. But who said you need a fancy limo or a vintage car to do it?
If you show up to prom riding a Llama, we're fairly certain people will remember that forever. These people taking their photo with a Llama is hilarious – we're just wondering if they intended it to be funny, or just wanted to take a picture with a Llama.
Way down we go
This is one of the most unfortunate pictures we've ever seen. Someone thought it would make for a really great picture if everyone just stood on the bridge and smiled pretty.
They didn't take under consideration that the weight of all these people put together might be too much for the bridge to hold. It was only inevitable for the thing to tip over, throwing all of the beautiful prom-goers into the water. Well, at least they got the memorable picture they were hoping for.
Shorts to prom
No, no, no! We don't care what country you live in, or what the weather is like there. We don't care if it's 120 degrees outside. You do not wear shorts to prom.
This guy's date looks so stunning in her beautiful, elegant dress. She obviously put in the time doing her hair and makeup, wanting to look just right on the special night. And her date thought it was fine to just wear shorts. Not only is it not appropriate for prom, but it also looks weird.
Superheroes
Some people like to get creative in their prom pictures, and other people just go completely overboard. The guys decided to dress up like Batman and Spiderman, while their dates are wearing beautiful dresses.
It makes for a funny picture, but they're not going to have an easy time dancing with in those getups. It does look like this group of teenagers is having a blast, though – and that's all that really matters, doesn't it?
Something is fishy
We feel bad for this little guy. It can be hard when you're not exactly one of the popular kids and you can't get anyone to agree to be your date to the prom.
But this guy decided he's not going alone no matter what, and dressed up a giant fish in what seems to be a flower girl's dress, and took it to prom like it ain't no thang. Just him and his fish date, taking a prom pic.
The devil
Creepiest. Prom photo. Ever. We've seen people wear costumes to prom (we're looking at you, Batman and Spiderman), but why the devil would you go as the devil?
This young girl is wearing a red dress and horns, but it's her prom date that really freaks us out, as he opted for full devil facial makeup to go along with the horns. No doubt it's an original picture, but we can't help but wonder, just… why?
All those prom dates
Way to go, playa'! We're thoroughly impressed with this guy, who managed to snag not one, not two – but three different dates to the prom.
He must be one hell of a guy if three girls agreed to go with him to the prom together. Be careful, girls, this one will break your hearts before you can say "awkward prom group photo", and we don't want you to come crying to us when the inevitable happens.
Angry dad
Look at this lovely young couple. It's one of the most exciting nights of their lives, and they both look so beautiful and happy. Now look at the girl's dad.
We guess it's hard for men when they realize their little girls are growing up, and instead of playing with Barbies are now going to prom with some guy. This dad is not taking well the fact that his teenaged daughter is already going to prom.
Doctor who date
Another thing you might do when you can't get a date to prom, is just take a life-sized cardboard cutout with you. And who better to escort you to the prom than Doctor Who himself?
If any date can literally take you on a journey to the stars, it's this guy. And he has his loyal Tardis ready on site, in case your limo breaks down and you need another way to get to prom.
Stormtrooper
Oh look, it's another guy who's trying to make prom night extra fun by dressing up. We're starting to think girls take these things more seriously than guys do.
This beautiful girl looks so gorgeous in her bronze dress and fancy hairdo, and her date is a stormtrooper. But we guess she must like his sense of humor if she agreed to the whole thing, and we have to admit it does make for a hilarious prom picture.
Angrier dad
Remember the angry dad from before? Well, we take back everything we said about him. He was handling the situation much better than this dad, who's already prepared to shoot his daughter's prom date.
The poor guy didn't realize, when he asked to take this girl to the prom, what exactly he was signing up for, as she seems to have an overly protective – and scary as hell – father. We sincerely hope this man is only kidding.
Planned parenthood
We love this adorable couple's sense of humor. Prom night is known to be a night in which high school couple tend to get… let's say, romantic, with each other.
And if you're not careful, you may find yourself exactly where this couple is standing. This hilarious picture is full of irony, and serves as a great cautionary tale for high school students who are planning to get lucky on the night of the prom, to be safe.
A furry situation
We have no words to describe this photo. Well, okay, we can think of a few. This couple thought it would be nice to take a picture with their cat, and their… wall tiger?
We don't really know what's the deal here, but this picture would be a hundred percent less creepy if it weren't for the dead serious looks on the faces of these two. We just hope the poor cat doesn't end up like his feline friend on that wall.
I want to break free
There always has to be someone to go against the flow, right? These guys look super dapper and have obviously taken the time to achieve that look. One of them even has a pocket watch!
But the fifth guy didn't really feel like wearing a suit. He thought it would be more fun to dress up like what we can only assume is the legendary lead member of Queen, Freddie Mercury. But honestly, he just ended up looking ridiculous.
Why so mean?
This lovely couple just wanted to take a nice picture before going to the prom, so they could always look back and remember how nice they looked in their fancy outfits… enter this guy.
We get photobombing, it can be pretty hilarious when someone takes a picture and then finds out you were behind them, crashing their photo in a funny way. Less funny? When the photobomber flips off the sweet couple in the picture. Not cool!
My best friend's prom date
Also not cool? This guy who's staring at his friend's date to the prom, instead of focusing on his own date. We get it – you wanted to take the cute blonde in pink to prom and your buddy beat you to the punch, so you had to settle for another girl.
But as long as you're with her, maybe you should focus on her, mmmkay? Also, staring down girls' cleavages is no the classiest thing in the world (but we've already covered that).
Pick-a-boo
It's always a scary thing when fathers have a quirky sense of humor. You never really know when they're going to do something to completely embarrass you, just to be funny.
We can only imagine how mortified this girl was when she realized her dad photobombed her prom picture, standing behind her with a bear torso and a creepy look on his face. Dads, in the name of embarrassed kids everywhere, please stop being funny.
Oblivious
This guy looks so happy, standing there to pose for a photo on the way to prom. He's also holding a sewing machine in his hand for some reason, but we'll just ignore that.
Does he really not notice what's going on behind him? It appears to be some sort of accident, and there's a bunch of law enforcement people dealing with it in the background. Or maybe he did notice, but thought it would be nice to snap a picture of himself with this as a backdrop.
Spot the not
Look how pretty all the girls look! And look at all the guys, looking handsome in their suits. They even managed to steer clear of tacky light blue and white prom suits.
But wait… what's that in the third row? Oh, it's that guy who always has to be the unconventional one. Well, we actually appreciate this guy being true to his own, rocking his heavy metal style with face paint and long hair galore.
Creeping up
Another day, another photobomb. We bet this guy is the girl's brother, and he thought he'd mess with her by ruining this prom photo. We have to admit, though, the way he hides behind that plant is really hilarious.
And let's be honest, if all prom photos were just of guys and girls standing there and smiling in their beautiful gowns and suits, it would be way more boring than getting photobombbed every now and then.
Left out
No wonder this girl is pissed! Her two best friends just take a picture without her, leaving her out like that? Girls just don't do that to each other.
So the girl decided to barge into their photo, and let everyone know that she was there too, and she wasn't having any of it. Next time we'd advise these girls to include her in their pictures, because she looks a little scary when she's mad.
Creepy date
We don't know which one of these girls was the date of the guy standing in the back, but no doubt she is one lucky gal.
He's just standing there behind the girls, who look happy while taking their prom pictures, and staring at them creepily. He's also holding the flowers in his hands like he's about to use them as a weapon. We would prefer to go to the prom solo, if you ask us.
Chicken Chicks
Um, okay… we don't really get why these girls wanted to take their prom pictures, with their pretty dresses and everything, while holding a chicken in their hands.
Maybe they were hoping that their chicken would magically transform into their prince charming, but we wouldn't hold our breaths (unless it was to avoid smelling these chickens). Something about this picture is just ridiculously funny, seeing as the girls look so darn serious while taking a picture that we're guessing was meant as a joke.
The joke's on you
What is so funny? This guy must be totally hilarious if he managed to make his date crack up so hard while taking their picture.
At least, we hope he just said something really funny to make her laugh. The other option would be he tried to put his hand around her shoulder, and she laughed at the notion that he had a chance with her. But yes, we're pretty sure he's just really funny.
Unexplained
The embarrassing dad strikes again. We don't know what goes through these dads' heads when they decide their bear bodies need to be in their daughters' prom photos.
This girl does not look like a happy camper as she's forced to take this weird looking picture with her dad, who's dressed only in Daisy Dukes. But if you ask us, it is not a good idea to embarrass your daughter like that before she's going to prom. She can get her payback in all sorts of bad behavior.
Look alive
Who forced this girl to go with this guy to the prom? We feel kind of sorry for both of them, since she's not looking like she's having any fun at all, and he's, well… kind of oblivious to the fact that this girl is not interested.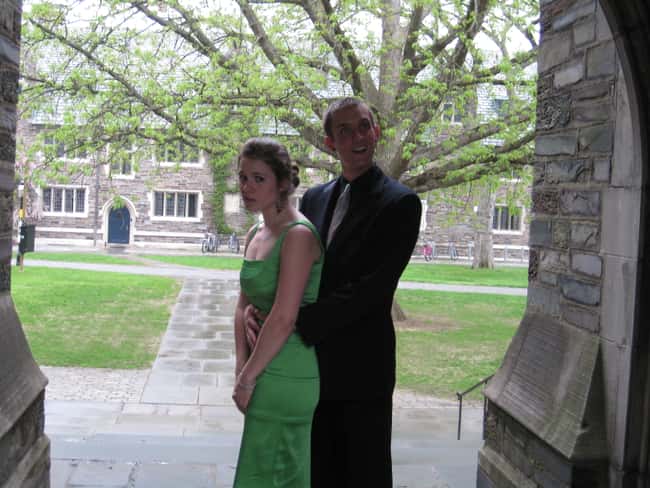 Not even in taking a simple prom photo with this guy. She has the kind of look on her face that just screams "save me", and we kind of wish we could.
I'm not doing that!
While the Charlie's Angels' pose is probably the most common choice for prom photos, these girls decided to take things in a different direction. The only thing is that it would appear the three ladies on the right had planned ahead and knew what they wanted to do, but the one on the left was out of the loop.
Therefore, when the photographer said "1, 2, 3… pose!" the three of them struck this Gagalicious formation and the other just laughed because she didn't know what to do.